Ultimately, I found myself 'forced to divorce' myself from not only the band (the manager had long since jumped ship), but the husband as well. I let the natural current of the times take me back to London, away from what we liked to call 'sophisticated' (the Thinking Man's) Heavy Metal into the still throbbing trend of Dance/techno/trance. On that part of the journey down-river, I swam against the tide; hated the trendiness and sophistry to image over substance. I wanted to be an individual, and ultimately felt too many samples of my voice were being taken and the music was going round and round and coming out nowhere. Acetates.. white labels.. DJ's giving a track a spin for a night.

**In one particular well-remembered incident, I was asked to create a complete vocal line (no sampling-shock!) over 3 tracks by a DJ/production team for Pyramid Records. They had the use of the BBC Mobile unit (sometimes borrowed by Peter Gabriel) for a weekend to lay it all down and mix. I started singing what I'd written and the guy ( I cannot remember his name for love or money) became agitated and stopped me . He could make out 'words'. He didn't want to hear words. He wanted the voice to just be another instrument in the mix. OK. Fine.. whatever... We recorded three tracks, which I still 'like' to this day, but when it came to the one live gig at the Ministry of Sound in London one mid-week night, there were no surprises. I was, once again, reminded NOT to SING any 'WORDS' and had to stand OUT OF SIGHT behind the desk, but this producer insisted on bringing in a real drum kit and placing it in point of pride in front of the sound desk. He then spent the 40 minutes of our set beating out his own 4/4 rhythms to the music. Sound like a good time??? People in this neck of the woods are wacky and self-indulgent. I would like to say they're as much 'fun' as all the drugs and wild, starry-eyed nights would promise... but really... when you get down to it, they're not.

Next, by a chance encounter came a brief flutter with a well-financed independent label that wanted to promote 'ELECTRA' as a solo artist; a blend of Brigitte Bardot, Robert Plant and that french geezer who wrote, 'Harley-Davidson Of a Bitch'. I loved the ex-CBS A&R guy's ideas and complimentary and clearly astute view of 'Electra' as a solo artist and potential entity, but time drifted on and no ink dried on any paper (of course.. what I didn't find out 'til after the fact.. my A&R guy.. the one in my corner.. got fired.. so there was NOBODY in my corner). I retreated north to my heart home and the house I still had matrimonial rights to as a result of my divorce.

At least I'd done something right.

So... like a long drive up Interstate 5 from Salinas to San Francisco, the mid-90's found me living in Edinburgh and working with dance/R&B producer Dave Galbraith (Wonderlust Music) on a project he called 'Eva Luna'. Concurrently, I was hired out-of-the-blue as a session singer fronting 'The Steve Martland Band'; a 40-piece brass band with lyrics. We opened the South Bank Festival in London at the Queens Hall and a week later performed for Prince Charles at the Princes Trust in Wales. Boy.. did that suck. Try it some time.. try singing when you've left your true heart in some other place, some other time, some other recording studio, with some other people...

No longer satisfied in any part with the direction my musical 'career' was taking, I left the UK and said good-bye to any musical involvements for 5 years. During that long march through the desert I visited Hong Kong, lived and married again (a lovely young sweet innocent and RICH architect!) in Singapore, optioned rights to the now published book I'd worked on with my friend, author Will Lorimer, and spent time working on and pitching a screenplay in Australia - 'The Sydney Saga' indeed, this was followed by 3 years in San Francisco with numerous drive-by visits to LA to pitch the script. Managed the Vorpal Gallery, the largest fine art gallery in SF, for about a year and a half of that time. Was also invited to do a stint as a pole dancer in Vegas. (I had to add that bit as whenever people see me out partying/dancing, they ask "were you ever a pole dancer'?????!!!!!" I don't know if it's a complement!? It's always the primates who ask. I might as well add, when I was 18 I was invited to work in a fabulously 'high class' brothel on Park Avenue. That means they say 'pardon me' before they shove it up your a*se. I don't know how these women do these things. Sometimes, money is just NOT enough.)

Anyway....still in California... got divorced again. Fell in love with a blue-eyed Berkeley boy and planned to remarry, but let that one go by. Came back to London for the total eclipse of the sun on 11 August 1999 and the next day went up to see my first ex-husband in Edinburgh for the Festival.

At 5:30am after an Orbital gig in Princes Street Gardens - I met and fell in love with the man who would encourage me to write music again. The songs on the CD's – CRAWL, ROUGH DIAMOND's and NATURAL E are some of the 50-60 songs I've written and produced during this period, working solo.

In 2002 the song 'Crawl' finalled in the UK Songwriting Contest (check Contestants' News page). In early 2003 I was invited to perform 'Crawl' at the New York International Music Festival opening night gala at Madison Square Garden and at other clubs in Manhattan. I was invited to perform more material at the Las Vegas leg of the NY Music Fest - Palms Hotel - in July 03 and again at the LA leg of the Festival in September '03.

I was cited as Best Female Alt/Rock Vocalist by the NY Music Festival promoters for my performances in LA and picked up that

award at the New York leg of the festival in November 03. Live Dates.

In April 2003 after 11 years and 3 different sets of legal counsel, my rights to all of the songs written in collaboration with Ian Jones were returned to me, so I can say, hand on heart, I own my songs. I proceeded to set up MGCK Music as the publishing arm of my ownership. On the most recent trip to LA, I agreed to a pro bono representation arrangement with agent Alexis Wright. She's been pitching 'Crawl' and 'That Boy' to other artists/managers.

My writing at present freely embraces all the styles of music I've been exposed to and loved, and all of my songs are reflective of some genuine life experience and emotion. I simply can't 'concoct' music. Well... I can.. but don't like to.

In 2005 I set up the publishing and artist management company MGCK Music Limited That has INDEED been a struggle, but the great joy is knowing I own my own life and time and answer to no one except whoever my 'GOD' is on any given day.

Of course... it's now 2008 and more things have happened. Been performing LIVE with ALTRES quite a lot. Visit the weblog for day-to-day ponderings on what's been goin' on....

And,... it's now 2012 and after many losses of life (to those I held near and dear) all of 'showbiz' seems vulgar and vanity driven. I can't really get in step with it any more. But I do still love to sing in the shower, in the car, in the living room and from the mountain tops!

As always, (well, not any more really) I always look forward to collaborating with other songwriters, programmers, producers across a wide variety of musical styles and emotional content. A little humour helps. I was pleased to have Paul Di'Anno (ex Iron Maiden and connected to my ex bass player Gavin Cooper) contact me via MYSPACE the other day. You see... it's good for finding people who you thought were gone forever. Unfortunately, it can also help the people you HOPED were gone forever FIND YOU!!

About being an 'adult' and a woman in the world/of the world... I make no apologies for where I've been or where I'm going, so bring it on until it's over.
"Valley Girl" Photo ©James Miller 2003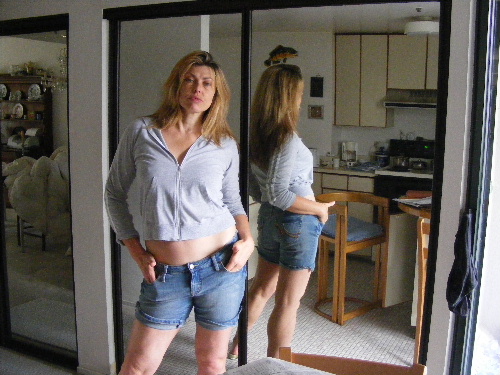 JULY 2008 in San Francisco - next month, another birthday coming up. I decided... I like my hair.
------------------------------------------------------------------------------------------------------------------------------